THIS DRAW HAS ENDED
To be notified of any future Survivor draws, call 705-673-6161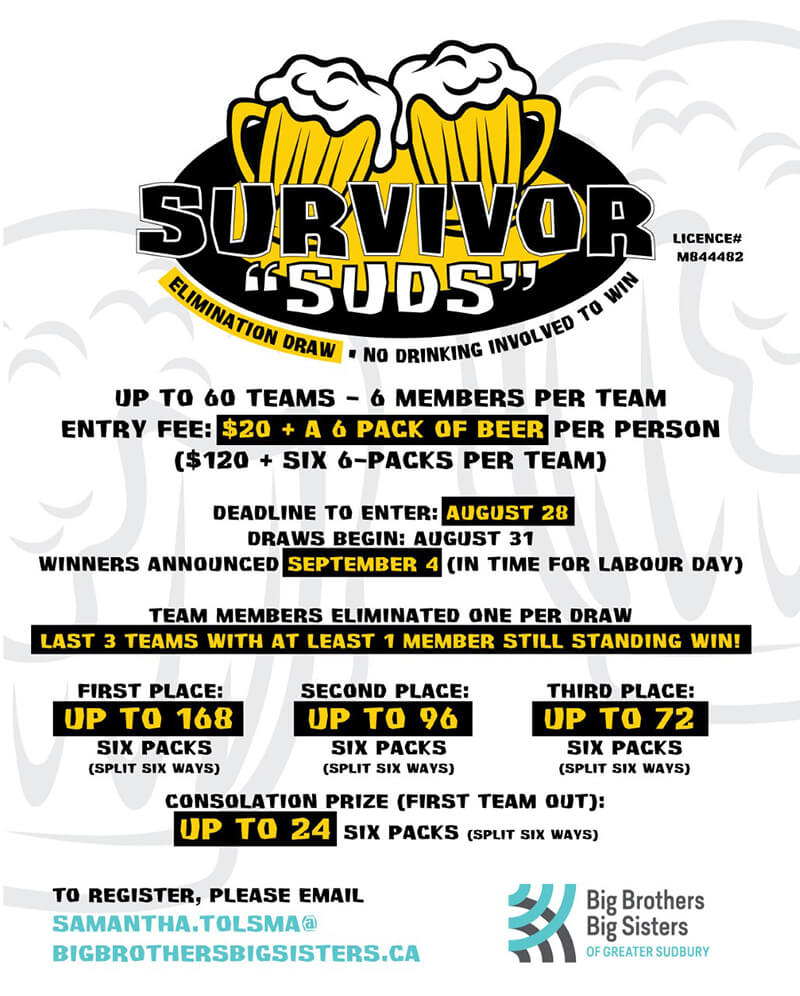 SURVIVOR SUDS DRAW IN TIME FOR LABOUR DAY!
Put a team together 6 people & choose a team captain.  Each person pays $20 plus a 6 pack of beer = $120 per team (6 X 6 packs of beer).
LIMIT OF 60 TEAMS!!!
DEADLINE to enter is August 28th, draws begin August 31st, and winners announced before Labour Day!
The last 3 names will be awarded a ton of beer for their team! How much beer will my team win?
That depends on how many participants we get. The beer will be divided between the last 3 surviving teams.
EXAMPLE: IF 60 TEAMS ENTER, THE NUMBERS WORK OUT AS FOLLOWS:
First Place Team Prize – 168 six-packs (28 per team member)
Second Place Team Prize – 96 six-packs (16 per team member)
Third Place Team Prize – 72 six-packs (12 per team member)
Consolation Prize- the first team to be eliminated – 24 six-packs(4 per team member)
TEAMS ARE NOT ELIMINATED UNTIL EVERY TEAM MEMBER HAS BEEN DRAWN.
This means that as long as you have one person from your team to make it to the final 3 draws, your team will
receive the corresponding prize.
REMINDER – Entry fees will be collected from each team captain by cash or by e-transfer to
chantal.gladu@bigbrothersbigsisters.ca
$120 e-transfer & beer dropped to be registered. Drop off at the BBBS Office – Mon-Thursday (9-4) @ 224 Pine Street
TO REGISTER: CLICK AND PRINT THE LINKS BELOW AND COMPLETE THE FORM. Then e-transfer & deliver beer and registration form by August 28th. Draws will begin August 31 st and winners to be announced September 4th, just in time for Labour Day long weekend.
Happy RECRUITING & GOOD LUCK!!
May the BEER be with you!
For More Information call 705-673-6161
Or email:
samantha.tolsma@bigbrothersbigsisters.ca
Forms:
Survivor-Suds-TeamRegistration
*ALCOHOL WILL NOT BE STORED ON BIG BROTHERS BIG SISTERS PREMISES*
License #M844482