If you would like to read local success stories, please check out our Matched magazine.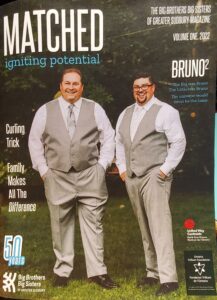 Adam Sharif
I've been trying to find the right words to describe how this organization has impacted my life for a long time now and I think I've finally found them.
Growing up with my mom being a single parent without my dad in the picture made things more difficult for her to give us a childhood that we would remember which is why we got involved in Big Brothers. With that being said there is a lengthy waiting process until they match you with somebody so in the meantime, we were involved with the events held for everyone to break the ice and get to know each other. We used to have sleepovers at the Big Brothers office in a giant room, staying up late eating pizza and watching Adam Sandler movies, swimming at Laurentian pool and so much more. I never got to experience a Blue Jays game but one of my favourite memories would have to be going to Wonderland. Waking up early, getting onto the Greyhound bus with everyone else and their parents only to have us hyped up on candy the whole way there. They would try to put on a movie in hopes that it would calm us down but never worked. I wasn't big on roller coasters growing up so most of my time was spent at the waterpark. My mom would volunteer to chaperone the other kids with us and some of them I still talk to this very day.
We weren't always the most behaved kids all the time though. This is where my appreciation really came through for Chantal. On the camping trips to Killarney, she would have to put up with our destructive behaviours quite literally (we destroyed one of the cabins). It was basically her babysitting us for a week but she did it anyway because she is passionate and loves what she does. I think that's where my drive really comes from now as an adult. She also didn't believe in giving medication to kids in order for them to settle down or "feel better", the way she saw things was through discipline and letting them get things off their chest by playing outside or having a good time. Her ways of parenting were very similar to my mom's. I really found myself when she tried to get me out of my shell being insecure about being overweight.
At first, I didn't know what to expect when I met Brian but at the same time, I don't think he did either. It started by going to a wolves game with his nephews on Friday evenings to helping him with odd jobs fixing things and eventually taking me to meet his family at camp. He was always the life of the party and knew how to make everybody laugh. Brian taught me how to change a tire, that you can fall in love more than once in your life and that it's NEVER too late to make changes to become a better person. We didn't always see eye to eye but that's just because I was an angsty teenager trying to rebel against the world but looking back at it now, you were just looking out for my best interests. The way you were old fashioned rubbed off on me because whenever I watch a movie with a girl now if she's on her phone playing a game or something, I get offended and see it as her being bored or antisocial. I'll never forget listening to Hank Williams ALLLLLL the way to camp on repeat and never knew if you actually enjoyed him; I still ask myself this from time to time. You weren't just a friend or mentor but the dad I never had growing up. You treated Nick and me as if we were your own kids. Oh, and don't worry when I have kids of my own, they'll definitely hear the tales of Blacky the Horse because his legacy needs to live onto another generation of gullible young minds. You've been a major influence of the man I'm becoming and I can't thank you enough. I know we don't talk much anymore because life gets busy but I'm sure you'll always be in my life one way or another. At this point in my life though, I am not exactly where I want to be but when I am, I'll definitely be considering becoming a Big Brother myself. Hopefully, anyone contemplating it as well, you should too because it's changed the way I see my childhood forever.